Thank you to reader Candace for sharing her thoughts on menstruation in the workplace. A few more community responses:
"I work for myself to be home and manage my work around my cycle."
"There was no sympathy at my old job. Frequent write-ups for needing to leave early or call out."
"I think the issue is money. Even if they know what you're going through, they may not care if it costs the company money, i.e., needing to stay home to rest or care for yourself."
"I shouldn't have to share with you what is going on for you to be kind."
We'd like to know: Have you ever had a workplace or boss who managed menstrual health in the workplace? Share below, and you may be featured in an upcoming edition!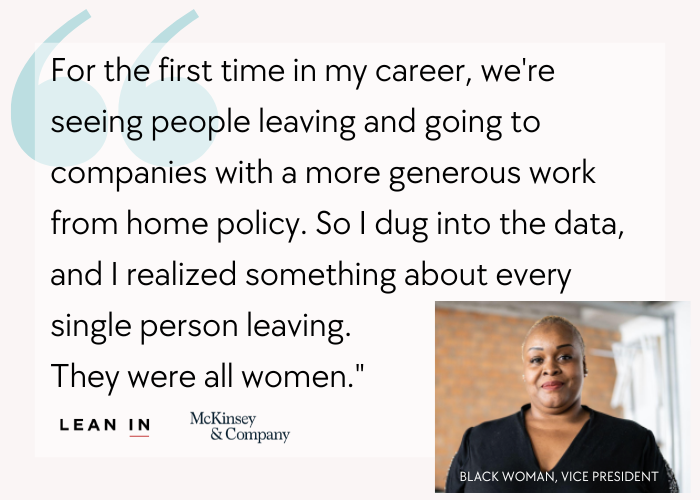 Women in the Wokplace; McKinsey & Company
Women in the Workplace is the most extensive study on the state of women in corporate America. Based on data from more than 333 companies employing more than 12 million people, this year's report features:
A detailed look at the impact of flexibility, remote, and hybrid work on women's experiences
Insights on the distinct biases and barriers faced by Black women, Latinas, Asian women, LGBTQ+ women, and women with disabilities
Data-driven best practices for advancing and retaining all women employees
Closing the gap between what's expected of managers and how they're trained and rewarded
Nearly 33% of the US Workforce will experience fibroids.
Simple adjustments across any industry can make a more menstrually-friendly workplace. It could be the ability to take bathroom breaks without having to disclose a reason, free period products in company bathrooms, or the ability to wear black pants to work in case of heavy bleeding. But most improvements can be made by offering compassion, consideration, and dignity.⁠
The world has yet to hear us, but they will: tell us your fibroids story in a video that's two minutes or less. Nothing fancy, just your gorgeous face speaking some truth about why we need menstrual health change now. No need to be highly medical or share a biographical timeline – we'd love to hear more about fibroids' emotional impact on your life.
Videos should be under 2 minutes in length and filmed horizontally.

Thank you to Myovant Sciences for sponsoring The Workplace Reset Initiative.