Thank you to reader Teresa for sharing her experience with menstruation in the workplace:
"My heavy periods caused by fibroids were a factor in my decision to quit my 20 year accounting career. I told my gynecologist that my periods were so heavy that I was running to the restroom every hour and had to check my chair every time I got up from a meeting. I actually didn't realize at the time that my periods were much heavier than average. I thought I was weak and couldn't deal with it. A couple years later I was bleeding every day, passing clots and waking up in the middle of the night gushing blood. I was told to deal with the heavy bleeding until I was ready for a hysterectomy. I really didn't want a hysterectomy. Then COVID came and it was easy to just stay at home which delayed me from reaching out for help. When my family started traveling again I had to find a solution. I learned about the UAE/UFE from a facebook group and it has been life changing!!"
We want to know, what's your experience with menstruation in the workplace? Share below and you may be featured in an upcoming edition!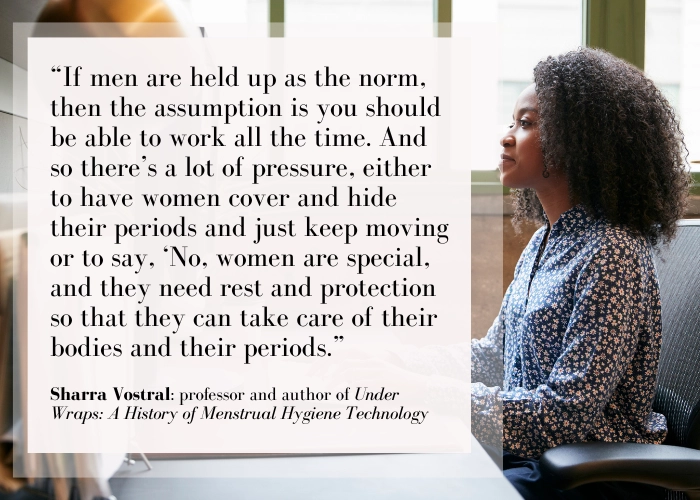 Sharra Vostra; professor and author of Under Wraps: A History of Menstrual Hygiene Technology
"If men are held up as the norm, then the assumption is that you should be able to work all the time. And so there's a lot of pressure, either to have women cover and hide periods and just keep moving or to say, "No, women are special, and they need rest and protection so they can take care of their bodies and their periods."

In a survey from 2015, the fertility app Clue conducted a survey targeting 90,000 targeted women in 190 countries. 76% of respondents felt comfortable talking to female coworkers or classmates about periods compared to 12% who felt comfortable talking to their male counterparts.
We're curious: are you comfortable talking about periods at work? More comfortable talking to female counterparts than male coworkers? Let us know your experience talking about periods at work, and we may feature your response in an upcoming edition!
How have fibroids impacted your career, family planning, and relationships? How about vacations missed, dates canceled, and dreams lost?
The world hasn't heard us yet, but they will! Tell us your story in a video that's two minutes or less. Nothing fancy, just your gorgeous face speaking some truth about why we need menstrual equity change now. No need to be highly medical or share a biographical timeline; just the emotional impact.

Thank you to Myovant Sciences for sponsoring The Workplace Reset Initiative.